Price list
Prices per person per day in double room with buffet breakfast.
Room type
Minimum
per person
Maximum
per person
Classic
€ 54,00
€ 90,00
Comfort
€ 59,00
€ 95,00
Superior
€ 64,00
€ 100,00
Family Room
€ 65,00
€ 102,00
Junior Suite
€ 70,00
€ 110,00
Suite
€ 86,00
€ 140,00
DISCOUNT FOR 3 PERSONS IN DOUBLE ROOM :
2 - 13 years: 50%
14 - 99 years: 30%
Baby cot: € 15 per day
Buoy: € 20 per day (please note that booked buoys must be paid even if not used)
Important info
The rooms are equipped with WC / shower / bathtub, direct dial telephone, satellite TV, individual heating / air conditioning (01.06 - 30.09), safe, minibar, balcony / terrace.
The hotel has an outdoor swimming pool and car park.
Free Wi-Fi in public areas
The reception is open 24/7.
The rooms are available from 2.00 pm
On departure the rooms must be vacated by 11:00 am
Cancellation conditions
Reservation cancellation is free of charge up to 7 days before the arrival date, unless otherwise agreed.
In the 7 days preceding the arrival date, in case of cancellation of the reservation, modification of the dates of the stay or no show of the guest, the Hotel reserves the right to charge the full amount of the stay .
Any amount already paid is not returned in any case, if there are cancellation costs, this amount can be considered total or partial payment of these penalties.
We take this opportunity to inform you that if you have provided a credit card to guarantee the reservation, the Hotel could verify the validity of the same by making a pre-authorization before arrival.
magical and breathtaking places
Bardolino and the Garda lake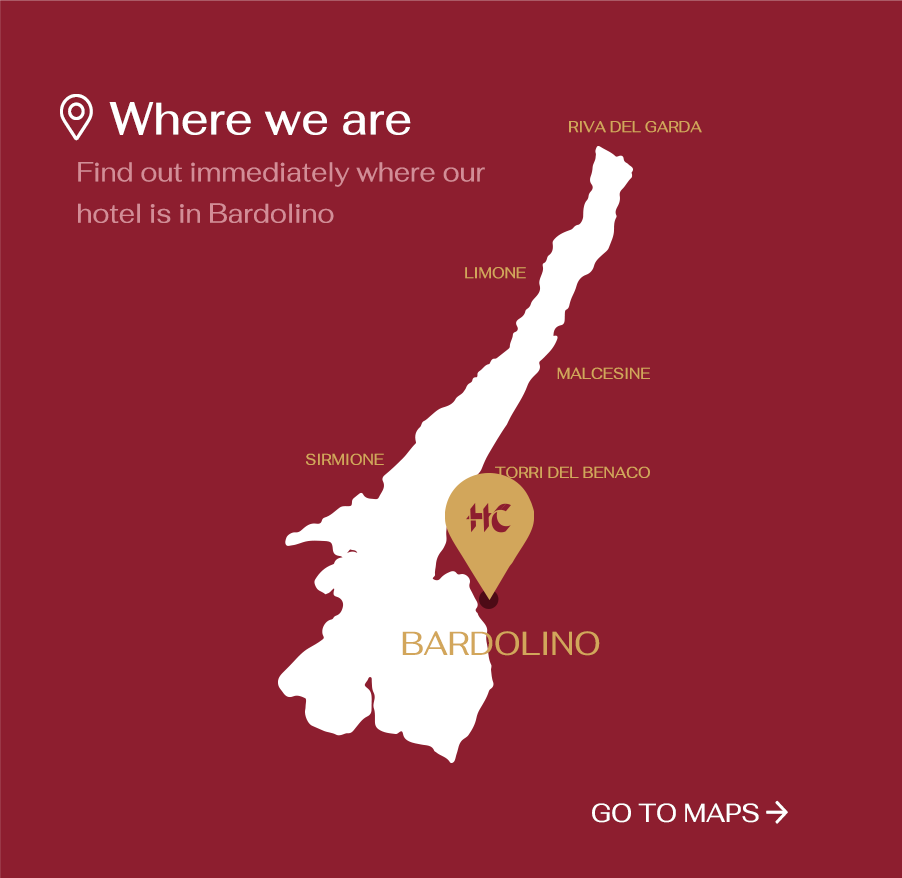 Let's discover the surroundings of our Hotel together, places that will make you fall in love ...
The mild climate, the lake and the fertility of the hills have always been the riches of Bardolino . It was these resources that made this land contended in the past by emperors, monks and noble families, who built here castles, palaces and convents .
Find out the surroundings